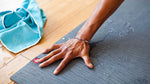 Many of our customers walk into Touch The Toes & ask:
"What yoga mat should I get?"
"What's the difference in the various mat brands?"
A long long time ago, yogis practised on cloth "mats"; they didn't have the luxury of choice. Now we have so many brands, and so many types of yoga mats, it can seem a big task! We help you simplify, and here is what we tell our customers to think about.
*Note that this is quite a comprehensive summary, so prepare 20mins to read, & digest.*
1. WHERE DO YOU (want to) PRACTICE? The easiest question.
At Home
We say invest in your practice- you're worth it. Get the most spacious mat your home allows. Here are 4 options:
The Liforme Yoga Mat, sustainable, with 'AlignForMe' markings. 2.6kg, longer & wider than regular studio yoga mats, 4.2mm thick. The patented 'GripForMe' top layer is sweat-wicking, which means you won't need a towel at all. No smelly sweat odours either! We love the beautiful smooth surface feel, that it's grippy rather than sticky, & the overall innovative design.
The Manduka PRO Yoga Mat, a very solid option. 3.4kg & 6mm thick, but well worth its weight. Made from high quality PVC, this is a very dense yoga mat, with a lifetime guarantee. We like that it always sits flat on the ground, no 'curly corners'. Closed cell surface i.e. neither sweat nor naughty bacteria can contaminate your precious mat. It does get slightly slippery if you sweat a lot. (Throw on a mat towel, if so!). It's PVC though, so not at all eco-friendly... (unless you live forever and use it forever).
The Manduka eKo Yoga Mat, good value, & sustainable. 3.2kg & 5mm cushioning, this is made from 100% natural and non-Amazon rubber, with no plasticizers or toxic emissions in the manufacturing process. It has an open cell top layer i.e. very sticky! We *heart* that this is a fully biodegradable yoga mat. Which, btw, doesn't mean it will fall apart- the eKo can last several years, if cared for properly.
Jade Fusion XW Yoga Mat. Extra wide, extra thick, for bigger, taller people. 8mm cushioning offers great spine & joint support. The XW is also sustainable natural rubber, with the stickiness that rubber is known for. Jade plants a tree for every mat sold (over 1 million now). This one is really meant for the home at 3.8kg (unless you drive, or enjoy lugging heavy things on your back!).
Outdoors, BYO to a Studio
There are lots of yoga events held regularly outdoors, and some of us are concerned about hygiene (or the reduced levels) in studios. Naturally, we BYO!
Our recommendations here are basically the baby brother, baby sisters of the 'At Home' yoga mats; they carry the same strong characteristics of each respective brand.
The Liforme Travel Yoga Mat is a luxe option; 1.6kg but thin at 2mm. Incidentally, it's aka "The World's Best Yoga Mat by Yogis, for Yogis"… 
Jade Harmony Yoga Mat, 1.9kg & 4.7mm. This is their most sellable mat, nice & light, with a grip that natural rubber mats offer.
Also the Manduka PROlite Yoga Mat, 1.8kg & 4.7mm. Almost the same specs as the Harmony, it's their most popular mat, and could well be the world's bestseller, given that Manduka have been around 20 years. It's a good option if you're rough with your belongings, since this one doesn't break down. Like the PRO, it's also PVC, which means it's not gonna break down, which means it's not so eco-friendly... (unless you use it forever!).
The other options here are the Manduka eKo 4mm Yoga Mat (2kg) & eKo Lite 3mm Yoga Mat (1.7kg), with a smoother texture than Jade. Made of natural rubber, these are also tried & tested, from the (more) sustainable range of Manduka.
Foldable & Ultralight
In this category, there are only 2.
Manduka's eKO Superlite Yoga Mat. Just under 1kg and 1.5mm thin.
Or Jade's Voyager Yoga Mat. Crazy light at 0.7kg and 1.6mm.
They both fold down to the size of a yoga block, and it's only the surface textures that differ.
*This should not be your primary mat, unless you intend to plonk it over another mat, as a stickier top layer or hygiene barrier.
2. WHAT IS YOUR PRACTICE? Which style do you do most often?
Ashtanga practitioners do very well with the Liforme Yoga Mats, as well as the Manduka PRO Yoga Mat Series. The Liforme Yoga Mat has a beautiful smooth surface, with patented GripForMe technology- you will never lose your grip on this mat. The sweatier, the grippier!
If you're into Iyengar, the Liforme is perfect with their AlignForMe signature markings. It's the only mat in the market where you know for sure that your hands & feet are placed in the right position for your practice. And for you to get the most benefit out of each asana.
Hatha or other more static style: yogis generally can choose from the entire range of mats that we've described above.
And if you do mostly Restorative or Yin, Jade Yoga's 8mm Fusion Yoga Mat is recommended! In fact, any mat with cushioning over 4mm works, so you won't feel uncomfortable.
3. ARE YOU (seriously) SWEATY? Or have sweaty palms?
If you are, the Liforme Yoga Mat is perfect. This is the only brand that guarantees (yep) that the sweatier your palms, the grippier the mat. It offers a patented GripForMe quick-dry technology wicking sweat off the mat, whilst you practise. 
Any of the natural rubber mats from Manduka eKo Yoga Mat or Jade Yoga Mat would also work well.
4. DO YOU VALUE SUSTAINABILITY?

If you truly do, here's our honest opinion:
Don't get the Manduka PRO Yoga Mat Series. Virgin PVC, not matter how high quality, is disaster for our planet.
Don't get any of the cheap Guardian or Watson's house brands. It's PVC, and we guarantee you'll slip slide and have small dots falling off & dislike it so much you'll wish the TTT Fairy Angel was whispering in your ear 'dontdontdont!'.
Don't get the Nike or in fact, any foam or PVC yoga mats.
Get Jade. Every mat is natural rubber. Or the Manduka eKo range.
Get anything natural!
Our take for going sustainable? Every few years, we can reward our diligent practice with a brand new mat! And treat ourselves with a fav new colour! It's a great upside. *happydance*
NB: The Liforme Yoga Mat is just about in this category; we love their philosophy to be as sustainable as they can, and they are, on many counts. But to get their great GripForMe top layer, they use eco-Polyurethane. Polyurethane doesn't break down, but we're told that their version will, after a long time…
So now that you're armed with the yoga mat tech specs, what's next?
Talk to us. Or have a feel at Touch The Toes, in The Green Collective Funan (unit 02-18) – and be 200% sure you've chosen your soul mat.